Molly enjoys sharing her quilting knowledge with students. She teaches using her own pattern designs as well as patterns from other designers. If a guild has a special pattern that they would like as a class, Molly can develop a class around that pattern. Permission must be obtained from the designer and all participants will need to purchase their own pattern.
Molly can also do a lecture on what judges look for entitled, "How To Catch The Judge's Eye". She also does a trunk show of her quilts. "My Quilting Journey" shows her quilts from the beginning to her award winning art quilts.
Please enjoy reviewing the list of class offerings below.
___________________________________________________________________________________________________
NEW! Class: Shadow Applique with Trapunto (about 22" x 22"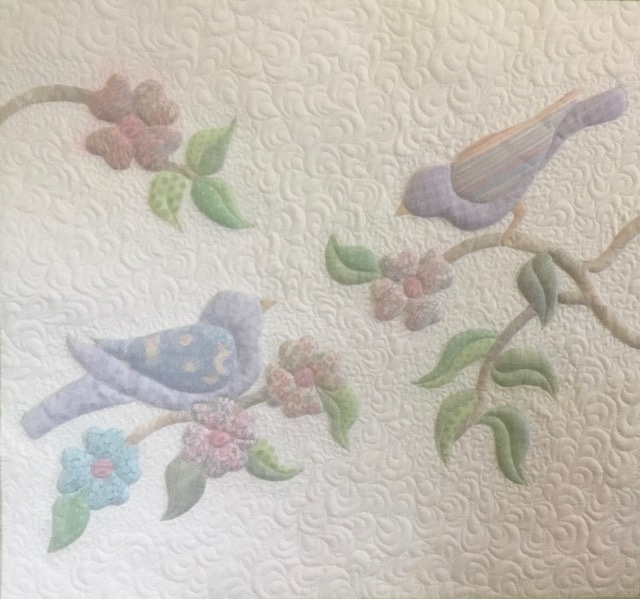 ___________________________________________________________________________________________________
NEW! Class: Stain Glass
Stain Glass has been around for centuries. But today it is not limited to glass. Quilters have taken it on as a quilting project. The technique presented here is quite simple. Approximate size is 16" x 24'.
___________________________________________________________________________________________________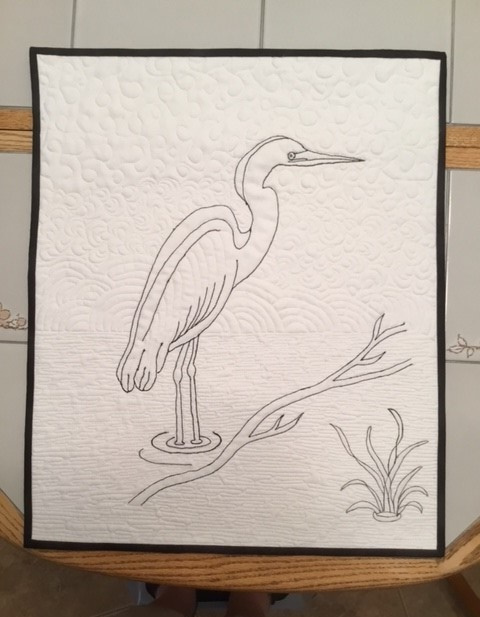 Class: Thread Painted Quilted Wall Hangings
in this class you will learn how to use your sewing machine needle to draw pictures. Did you ever want to take your free motion quilting to the next level? In this class you will incorporate a few techniques to create combining drawing (no you do not need to be an artist), and quilting. You will learn how to take a picture and convert it to a thread painted quilted wall hanging.
________________________________________________________________________________________________
Class: Waltzing Flowers
Want to do some curved piecing, appliqué, trapunto, and some free motion machine quilting?? In this class Molly will teach you these techniques as you create this lovely wall hanging. It is based on the larger quilt, "Waltzing with the Flowers".
_____________________________________________________________________________________________________
Class: Landscape Quilt
Did you ever want to make a Landscape quilt but did not know where to begin? In this class you will learn Molly's technique to create a landscape featuring a lighthouse. Once you learn the technique you will want to create more landscapes....perhaps from a favorite photo, maybe be from a vacation. This measures approximately 16" x 22". In this full day class you may complete the top.

I taught "Beacon of Light Lighthouse" at a shop in Florida. I took a few pictures while the ladies were working on their project. It was very interesting how each one, using the same pattern, look so different. All were beautiful. They had a fun time creating their own lighthouse. Click here to see what I mean!
I taught this same class again to a different group of students. Click here to see the results of their work!
.
____________________________________________________________________________________________________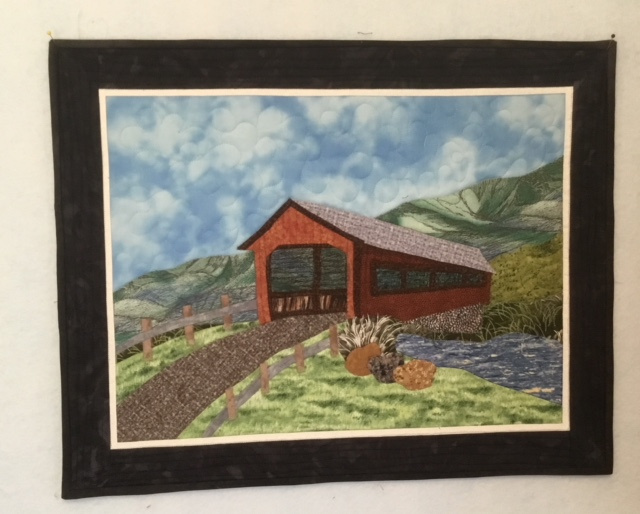 NEW! Class: Landscape Quilt "Covered Bridge"
This is the same technique as Beacon of LIght Lighthouse. It is highly recommended that you have already taken the Beacon of LIght Lighthouse class before taking this class. This class has more, smaller pieces. The piece measures 22" wide x 17" high.
____________________________________________________________________________________________________
Class: Bar Quilt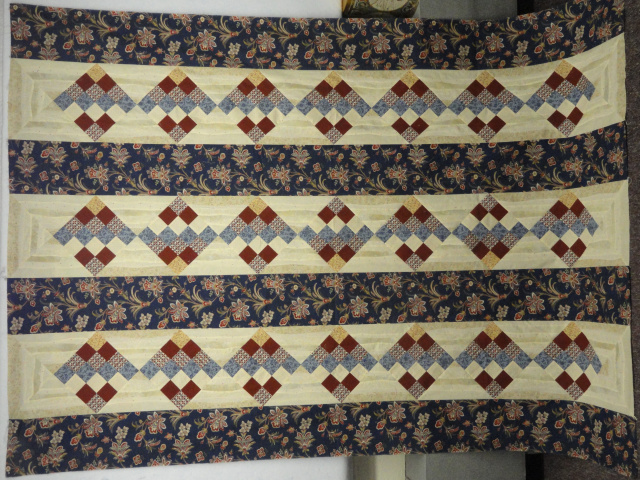 Do you have a fabric that is just so pretty that you just can't cut it up into little pieces? ( Sure you do). You don't want to cut it, but .....it is taking up space in your stash.....you feel guilty buying more fabric when you already have a great fabric....or some other rationale!!! Well now is the time to use that fabulous fabric. AND make a great quilt that will show off that wonderful fabric. This "Bar" style quilt uses large strips of that beautiful fabric alternating with pieced blocks (16 patch - not the boring 9 patch) set on point. The set in triangles are created using curved piecing. This adds interest and you friends will ask, how did she do that? You will learn a new technique. Put all of this together and you will create a wonderful quilt. Quilt will measure approximately 65" x 91". If you wish to make additional bars and blocks you will need additional fabric.

_______________________________________________________________________________________________________
Mystery Bed Runner
Everyone loves a mystery. Quilters are no exception. Bed runners are very popular now. This is an original design; one that is fun to make and one that can add pizazz to any bedroom décor. Now you can change the décor without having to make a large bed quilt. Change the décor for the season, holiday, or just because! This is a full day class.
______________________________________________________________________________________________
Edge Finishes
A quilt is not complete until the edge is finished. In this class you will learn a variety of finishes that you can use to complete your quilt, from Prairie points, Scalloped Edge, Faced finish, knife edge, etc. This is a half day class.
___________________________________________________________________________________________________________
Machine Applique
Let your sewing machine do the work for you!! Easily accomplish applique accurately and precisely. The applique stitches are nearly invisible and replicate the appearance of hand applique stitches in a fraction of the time. Or if you choose, you can use a buttonhole stitch or other decorative stitch on your machine.
These patterns can also be done by hand applique. In this class you will learn a few new techniques and how to use some products that will help you create your own masterpiece.
You can make individual wall hangings or combine into a larger quilt.
Skill Level: Intermediate to Advanced
Patterns: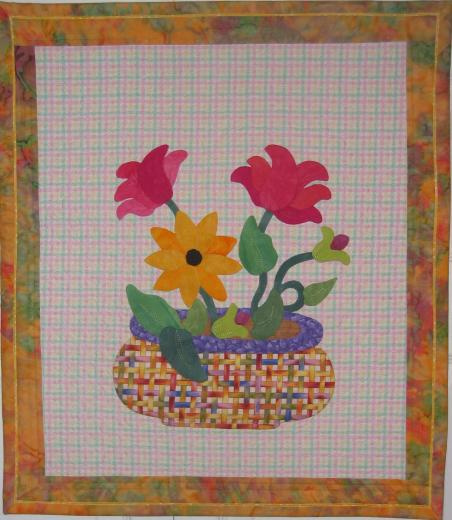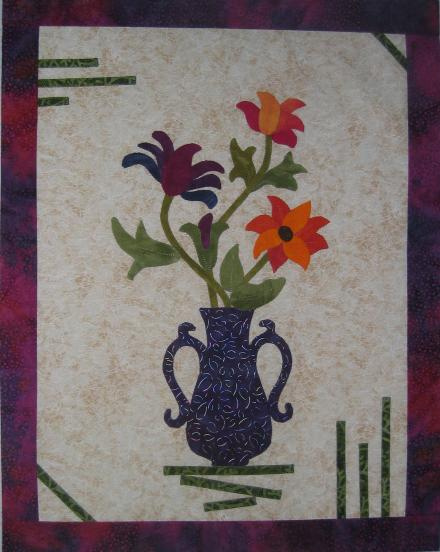 Amy's Flowers Sandy's Flowers Lisa's Bouquet

Bailee's Basket Lindsay's Flowers Floral Bouquet


Linda's Rose
---
Top Stitch Applique
Let's try a new technique: a mix of curved piecing combined with applique and top stitching. No, this is not difficult. To the contrary it is quite simple. Once you learn to do this machine applique technique you will want to create your own designs including landscapes. This is a perfect technique to create landscapes. Yes, this all done by machine. We will start with a simple flower or bird. Wall hanging. Pattern pieces are layered in sequence as usual with turned under seam allowance applique. Each surrounding piece covers the raw edge of a previously layered piece.
Skill Level: Advanced beginner - All
6 hour class
Patterns: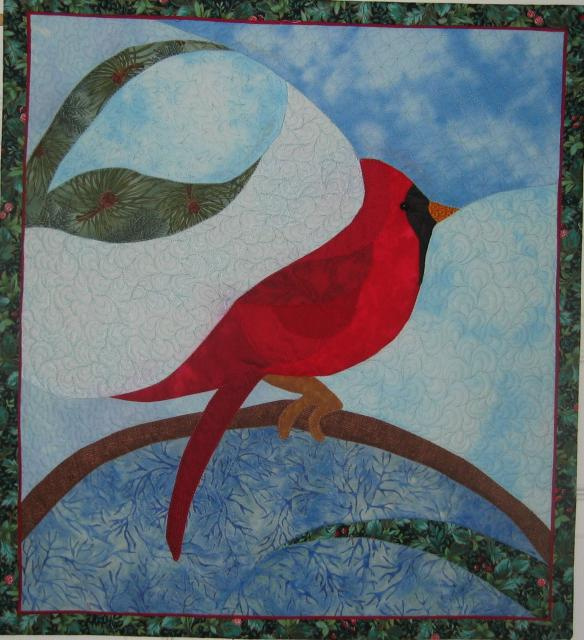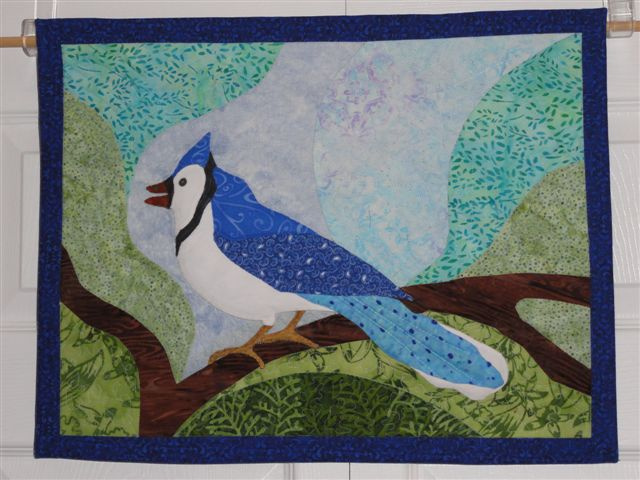 My Funny Flower My Adirondack Cardinal My Mountain Blue Jay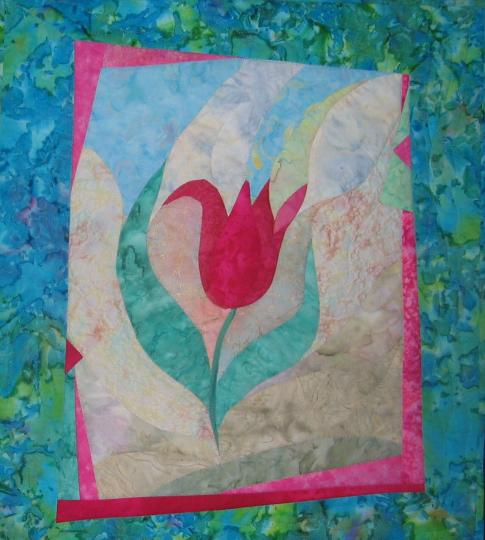 Tulip in the Breeze
---
The Mama Bag
This versatile tote can also serve as a large purse. There is an inside zipper pocket or you can add two. You can also add other optional pockets to the inside. It also has a zipper closure to secure the contents from inadvertently falling out. The bag has short dual handles and it also has a shoulder strap with the option of taking this strap off when not needed. There are also two outside pockets. These pockets can be embroidered including adding your name. Feel free to embellish with beads, crystals and other decorative treats.
Approx size - 12"h x 14"w x 4.5"
Skill Level: Confident beginner - Advanced
6 hour class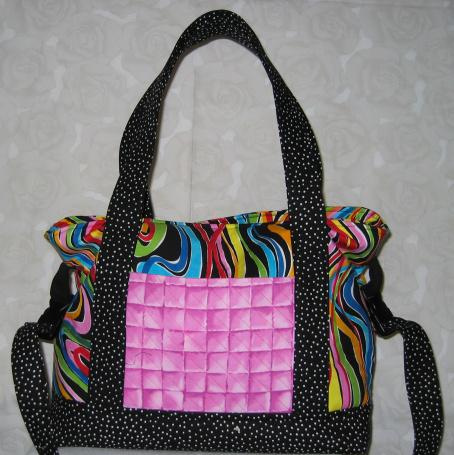 The Mama Bag
---
Mini Dress Purse
These little purses are little gems. You can use them when you don't want to or don't need to carry a lot of "stuff". Perfect for an evening bag, to take on a cruise or to take to quilt shows. It is handy and can stay out of your way while carrying your essentials (credit card, room key, a little cash, a small digital camera or your cell phone). You will be amazed at what you can carry in this three-pocket purse. The best part is you can put it around your neck or shoulder leaving your hands free for more important tasks. You will want to make several.
Skill Level: Confident beginner - Advanced
Size: 6" x 9" or 8" x 9-10"
3 hour class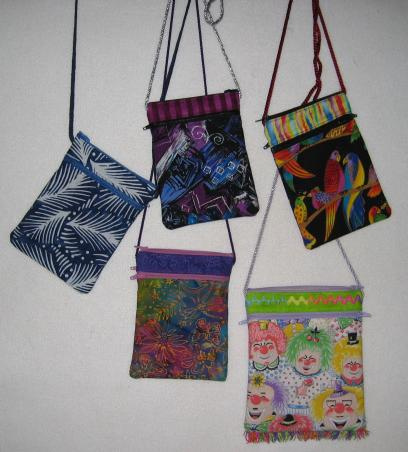 Mini Dress Purse
---
Machine Trapunto
Trapunto has a long history. It appeared first in Italy around the early 16th century. It then appeared in America in the late 1700's. This technique was very popular up until the Civil War. Now with modern technology we can do this stuffed work in less time and work using a sewing machine. This wholecloth quilting technique produces a raised surface on the quilt.
In this class you will learn to add dimension and texture to your work. Come have fun while making a small wall hanging, which could be finished in class. In class you can choose from a variety of motifs. You will also begin to add quilted dimension using some free-motion quilting. Once you learn this technique you will be adding texture to many of your quilts. Your machine will need to have the feature where the feed dogs can be lowered or covered.
Skill Level: Confident beginner - Advanced
Approx. size: 18" x 18"
6 hour class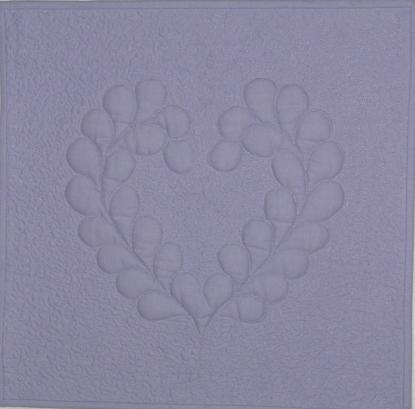 Machine Trapunto
---
Shadow Applique with Trapunto
Traditionally shadow work used a translucent fabric such as organdie, fine linen, crepe de chene, nylon or a muslin. In this class you will use a light colored cotton fabric (one that will allow the bright colored fabrics beneath to show through) or you can use a batiste. Bright colored cotton fabrics will be used for the design and when placed under the fabric will produce a soft pastel image or shadow. The shadow image will further be enhanced with the addition of trapunto (stuffing of the image) to create a very pleasing wall hanging. If you like you can make several to make a large quilt.
Skill Level: Intermediate - Advanced
Size: 18' x 18"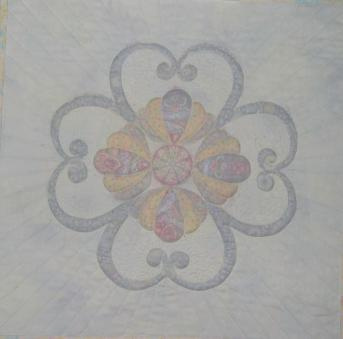 Shadow Applique with Trapunto
---
Expanded Trapunto Techniques
In this class you will learn to use your machine to do Trapunto, shadow applique with trapunto, and thread painting on appliqued trapunto. All are fun techniques that you can use to enhance any quilt, use on home decor items, etc. This is a full day class.
___________________________________________________________________________________________
Perfect Binding
Here is a binding technique (for a double fold or French binding) that the experts use. It takes a little extra preparation and application time, but well worth the efforts. Judges will be impressed; they won't be able to say "binding technique needs improvement". This is a half day class.
___________________________________________________________________________________________
Snow Crystals
These snow flakes won't melt on your table...And they don't bring the chill of winter. These charmers will enhance any table and warm your heart with childhood memories. Remember when you were a child and you made cut out snowflakes??? Well, let's do it again and save them on a table runner. You can enhance your table runner with crystals or beads.
Skill Level: All
Size: 12.5" x 40"
6 hour class


Snow Crystals
---
Autumn Leaves
Grace your table for the fall with the table runner featuring a variety of seasonal leaves. The dimensional maple, oak and elm leaves are added after the quilting is completed. And let's not forget the acorns. The multi-colored border is a perfect accent the the colorful leaves. Try a different edge finish; a faced finish and not the typical binding.
Skill Level: All
6 hour class

Autumn Leaves
---
Scrap Happy Table Runner
Ever wonder how you could use up some of those scraps (we all have them) and put them to good use as well. Now is the time to create something useful at the same time. This quick and easy to piece project will be a colorful addition to any table. You can use multiple colors or limit your color palette. Once you learn this easy technique you can go on to make a large quilt of any size. You can even change your design. Just make several blocks and have fun arranging them...Better yet, have your children or grandchildren play with a design. No stress here!!!
Skill Level: Beginner
6 hour class

Scrap Happy Table Runner
---
Topsy Turvy Tradition
Take some tradition and give it a twist! We start with some 10" traditional blocks, add some borders and then do the twist. We will then put these dancing blocks together with sashing. WOW-wait till you see the results. The surprise...... Tradition meets contemporary! Add borders and WALLA... A great quilt.
Skill Level: Intermediate - Advanced
Approx. Size: 58" x 58"
6 hour class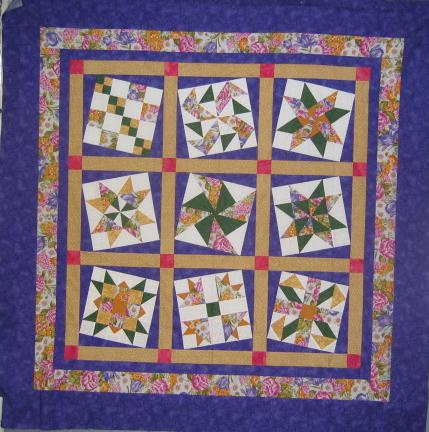 Topsy Turvy Tradition
---
From Scraps To Treasures
Do you have a stash of scraps and do not know what to do with them? Now admit it. You do. We all do! Have you not saved all your scraps? Well, now is the time to begin to save them. It does not matter what the colors are, what motifs are on the fabrics, etc. All are welcome. Yep, all of your left overs are very welcome. Sharing scraps is also fun. Learn to use up these scraps to make various projects. Learn of the various blocks you can make. You can put them together to make quilts for charity. for your pets, kid's quilts, quilts for camping, etc. You can make pot holders, placemats, pillows. items for a silent auction, gifts or whatever you want. Bring your scraps, share your scraps or bring a variety of fat quarters or other small pieces of fabrics... Did you know that many shows have a special category for "scrap quilts"? Also, did you know that some of the most beautiful quilts are made from scraps? Bring your small pieces of batting too.
Skill Level: All
6 hour class


From Scraps To Treasures
---
Free Motion Machine Quilting
Do you need to extend your free-motion quilting to a more than just the simple stippling or meandering? In this class you will learn to do some additional free-motion quilting motifs. You can incorporate various motifs in the same quilt project. They look more difficult than you would think they really are. You will make yourself a sample of some various quilting designs for future reference. Come have some fun, be creative and learn new techniques.
Skill Level: Previous experience with free-motion quilting is recommended.
6 hour class
---
Beautiful Piped Binding
Ever wonder how that beautiful piped binding (trim along the edge of the binding) is made? Well, it is much easier than you would expect. No special rulers are needed for this easy technique. Yes, I said easy. And the best part is that it is all done by machine. You only need to tack the corners closed by hand.
Skill Level: Confident Beginner
3 hour class
---
Studio (Or make it your personal class)
Perhaps you have a project or a few projects that you are stuck on, not sure what to do next. Do you have a project in mind but don't know where to begin to create your vision? Do you want to design a special masterpiece but don't know how to go about to even begin? Or do just need some motivation to finish a project? Do you have a project almost done but can't decide on whether to add borders or what kind of borders would work best? This is the class for you. You will be guided and offered suggestions to help you through your dilemma. You will be helped to get over your stumbling block and teach you various options to help you make your projects complete. No more UFOs.
Skill Level: All
Can be a 3 or 6 hour class, depending on number of students
---
Your Guilds Special Class
Maybe your guild has a specific project or pattern in mind and would like someone to come to teach the group how to make it. No problem. Just send me the pattern and I will develop a class for you.
---